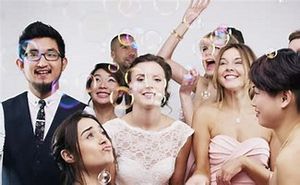 If interested in a photo booth quote, please fill out the information form below. Or you may prefer to pick up the phone and call us at (570) 654-8368. We will get back to you the same day and show you how easy and affordable it is to have Groove Train entertain at your next event.
30+ years

of wedding, private party, and corporate event

 experience.

The latest photo booth 

technology to give your guests

 

a 'cutting edge' photo booth experience.

Professionally dressed

, crowd friendly, personnel.

Professional M.C services

throughout the entire night's festivities, working in conjunction with the banquet coordinator to make sure your event runs smoothly with all schedules on time.

Available around the clock

to discuss your reception/party needs.

Unlimited consultation

includes e-mails and voice mails usually returned the same day.
The unique "

Groove Train wedding reception checklist

" is filled out together to make sure all of the important details are addressed.
 With years of wedding and private events experience, you can be assured that Groove Train will leave nothing to chance and will do all the 'little things' to keep your party going strong. No job is too big or too small!